Back to All Recipes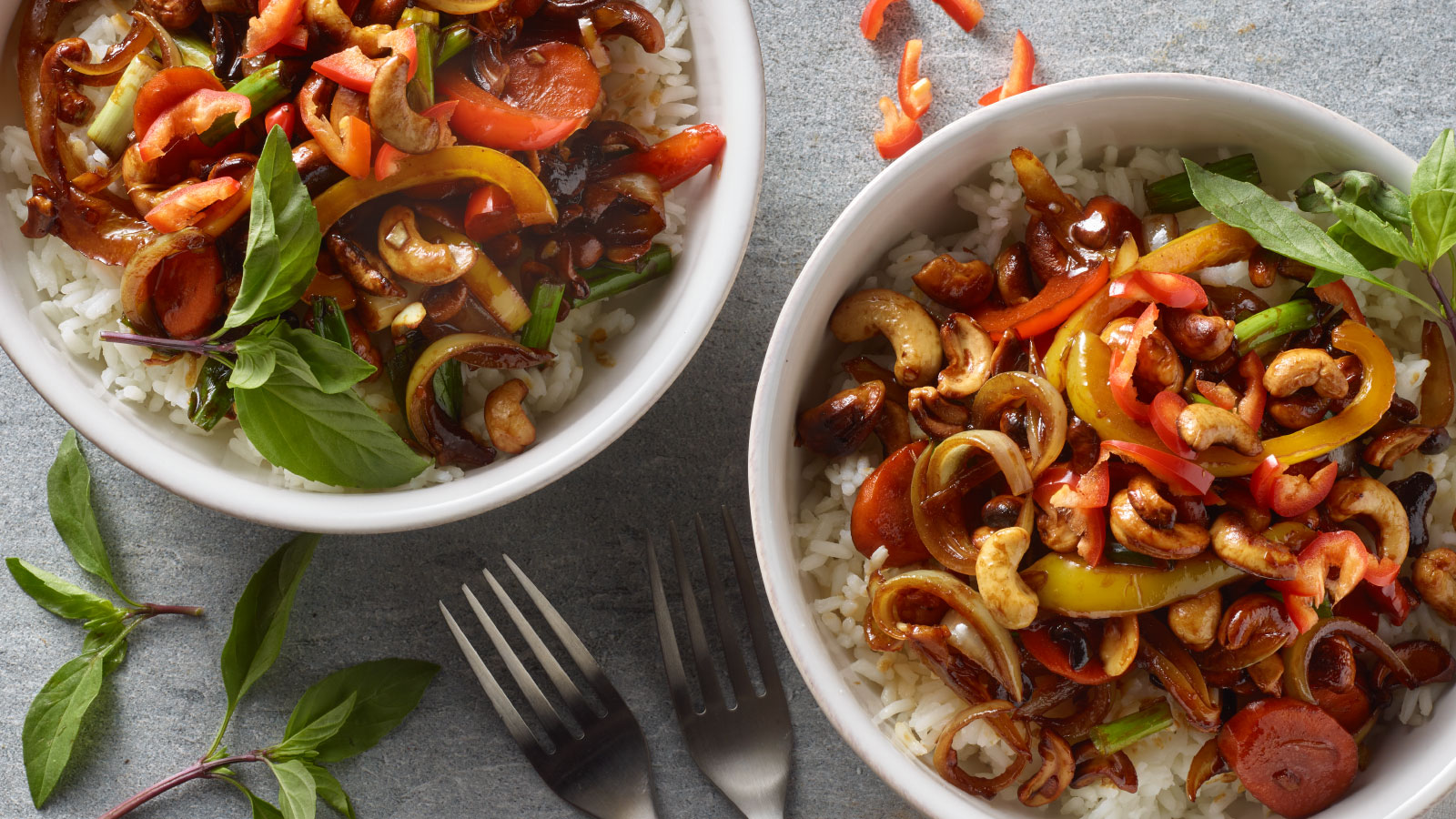 Vegetable Cashew Stir Fry
Ready to enjoy in under 20 minutes, this delicious vegetable cashew stir fry features carrots, red bell peppers and onions seasoned with savory flavors and served over a bed of rice.




Ingredients
1 tablespoon oyster sauce
2 teaspoons fish sauce
2 teaspoons soy sauce
1 teaspoon sugar
3 tablespoons water
2 tablespoons oil, divided
1 cup PLANTERS® Cashews
1 carrot, peeled and sliced
1 red bell pepper, cut into strips
1 small onion, sliced
3 green onions, sliced
1 small red cayenne pepper, sliced
1 garlic clove, minced
Jasmine rice, for serving
Thai basil, for garnish if desired
Directions
In small bowl, combine oyster sauce, fish sauce, soy sauce, sugar and water.
In large skillet over medium heat, heat 1 tablespoon oil. Add cashews. Cook, stirring, 2 to 3 minutes or until toasted. Remove from skillet with slotted spoon.
Increase heat to medium-high. Add remaining oil to skillet. Add carrots, red bell peppers and onions. Stir-fry 2 to 3 minutes. Add sauce mixture. Cook 1 to 2 minutes or until sauce coats vegetables. Add green onions, red cayenne pepper, and garlic. Stir-fry 1 to 2 minutes. Add toasted cashews. Stir-fry an additional 1 minute to combine.
Serve over rice garnished with basil, if desired.

Back to All Recipes