Back to All Recipes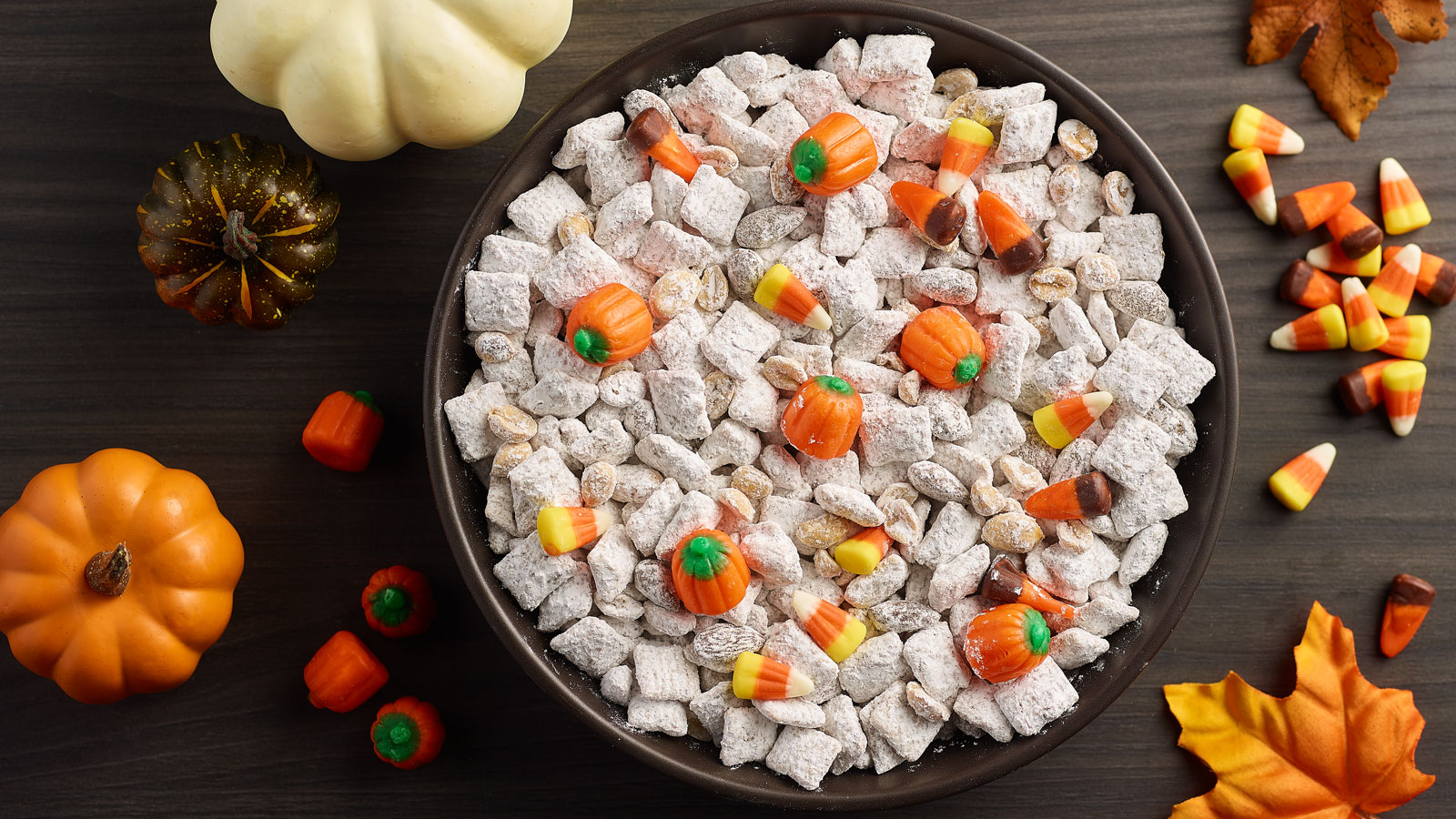 Pumpkin Spice Party Mix
This exquisite blend features 8 cups of sweetened rice cereal kissed with a dash of cinnamon, perfectly complemented by the satisfying crunch of PLANTERS® Dry Roasted Peanuts. Real butter and rich brown sugar unite with a touch of pumpkin pie spice and fragrant vanilla, infusing each bite with the cozy taste of autumn. The pièce de résistance is the inclusion of PLANTERS® Pumpkin Spice Almonds, delivering an extra layer of autumnal perfection.




Ingredients
8 cups sweetened rice cereal with cinnamon
2 cups PLANTERS® Dry Roasted Peanuts
1/3 cup butter
1/4  cup brown sugar
1 tablespoon pumpkin pie spice, divided
2 teaspoons vanilla
1 package (12-ounce) white vanilla baking chips
1 1/2 cups powdered sugar
1 cup PLANTERS® Pumpkin Spice Almonds
Autumn mix candy, as desired
Directions
Place cereal and peanuts in large microwavable bowl; set aside.
In 2-cup microwavable measuring cup, microwave butter uncovered on High 30 to 45 seconds or until melted; stir in brown sugar and 2 teaspoons pumpkin pie spice. Microwave uncovered on HIGH about 1 minute or until smooth and bubbly. Stir in vanilla. Pour over cereal in bowl; stir until evenly coated. Microwave uncovered on High 3 to 4 minutes, stirring after each minute, until cereal is glazed and toasted; leave in bowl, and set aside.
In medium microwavable bowl, microwave white vanilla baking chips uncovered on High 45 seconds; stir. Continue heating in 15-second intervals, stirring vigorously after each, until chips are melted and stirred smooth.
Pour melted chips over cereal in bowl; stir until well coated. Transfer cereal to large food-storage plastic bag or container; add powdered sugar and remaining 1 teaspoon pumpkin pie spice. Seal bag; shake until well coated. Spread on waxed paper to cool, about 20 minutes. Add almonds and candy, as desired.

Back to All Recipes