Back to All Recipes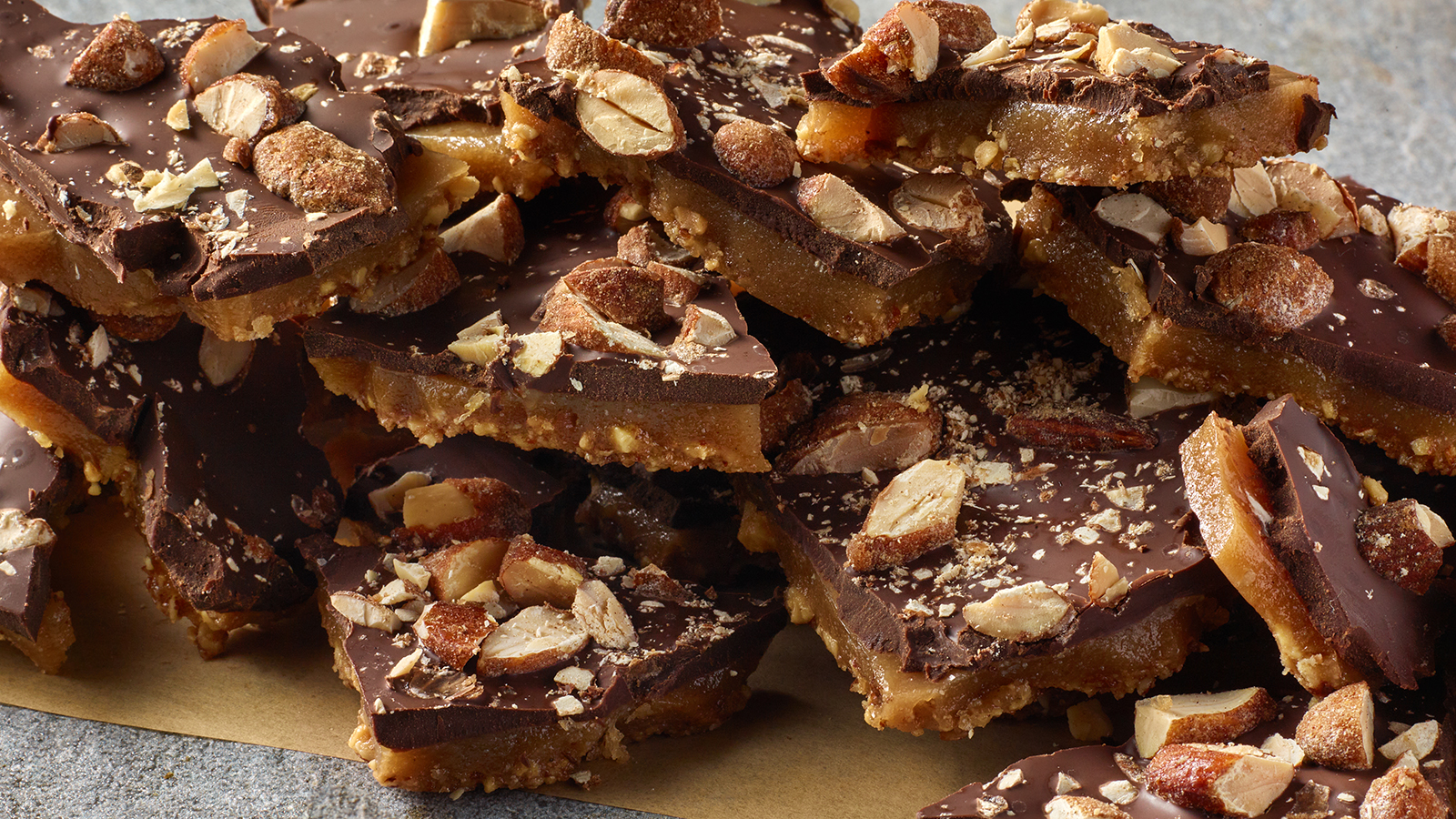 Pumpkin Spice Almond Roca
Experience the cozy essence of autumn with Pumpkin Spice Almond Roca. Crafted from limited edition Pumpkin Spice Almonds, pumpkin spice extract, and dark chocolate chips, it's an effortlessly indulgent delight that blends rich toffee crunch with the comforting flavors of pumpkin spice, delivering an unforgettable fall taste sensation.




Ingredients
1 1/2 cups PLANTERS® Pumpkin Spice Almonds, divided
1 3/4 cups butter, cubed
1 cup granulated sugar
1 cup brown sugar
1/4 cup light corn syrup
1 teaspoon pumpkin spice extract
1/2 teaspoon pumpkin pie spice
2 cups dark chocolate chips
Directions
Line a 15×10-inch baking pan with foil. Lightly spray foil with nonstick cooking spray.
Coarsely chop 3/4 cups almonds. Set aside.
In bowl of food processor, place remaining 3/4 cups almonds. Pulse to coarsely crush. Pour onto prepared pan, spreading slightly to cover.
In medium saucepan, over medium heat, combine butter, sugars, corn syrup, extract and pumpkin pie spice. Bring to boil, stirring frequently. Insert candy thermometer. Boil until temperature reaches soft-crack stage (290°). Immediately remove saucepan from stove, pour mixture in an even layer over crushed almonds.
Sprinkle chocolate chips on top of warm toffee layer. Let chocolate chips melt, 2 to 3 minutes, before spreading evenly. Sprinkle with reserved chopped almonds. Let cool completely before breaking into pieces.

Back to All Recipes