Back to All Recipes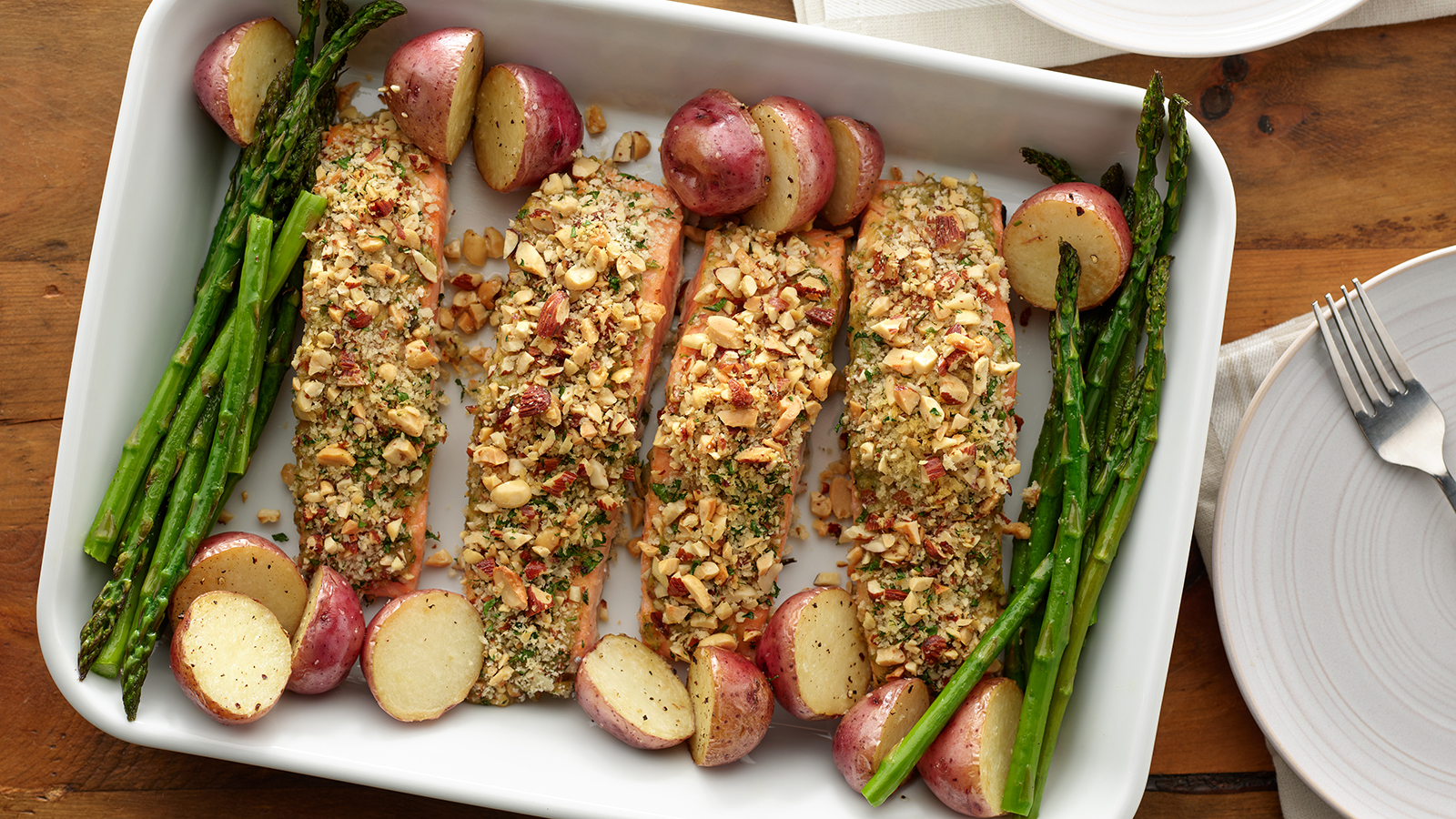 Mixed Nut Crusted Salmon
Elevate your weeknight dinner with this mouth-watering roasted salmon! Coated in a savory blend of herbs, breadcrumbs and mixed nuts, this dish is bursting with flavor and crunch. It's an easy meal that's sure to impress your taste buds and dinner guests alike.
Recipe by Rosie Batista




Ingredients
1 1/2 pound new potatoes, halved
1 tablespoon olive oil
1 1/2 teaspoons salt, divided
1 1/4 teaspoon black pepper, divided
1 teaspoon chopped garlic
2 tablespoon Dijon mustard
1 tablespoon honey
1 tablespoon chopped fresh thyme
1 tablespoon chopped fresh rosemary
1 pound salmon filet, cut into 4 pieces
1/2 cup chopped PLANTERS® Mixed Nuts
1/4 cup Panko breadcrumbs
1 teaspoon chopped fresh parsley
1 bunch asparagus, trimmed
Directions
Heat oven to 375°F. In large shallow baking dish, place potatoes. Drizzle with olive oil. Season with 1 teaspoon salt, 1 teaspoon pepper and garlic. Bake 20 to 30 minutes, or until potatoes are tender.
Move potatoes to outer edges of baking dish. Place salmon filets in center.
In small bowl, mix mustard, honey, thyme and rosemary. Mix well until combined. Brush on to salmon to coat.
In another small bowl, combine chopped nuts, breadcrumbs and parsley. Press mixture evenly on salmon. Add asparagus to baking dish. Bake 15 to 20 minutes or until salmon flakes easily with a fork.

Back to All Recipes