Back to All Recipes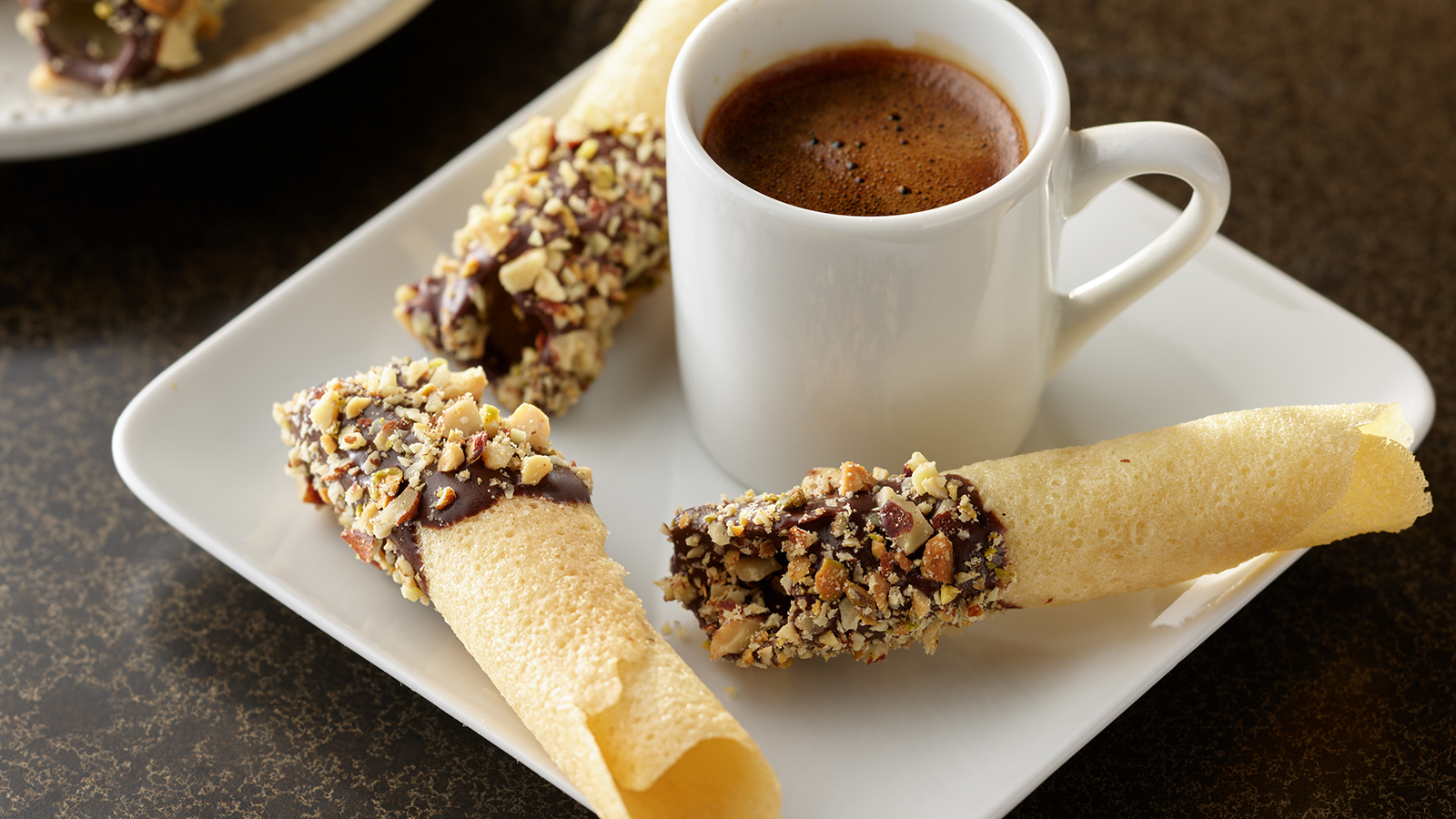 Chocolate Dipped Tuiles
Chocolate Dipped Tuiles are a delicate and decadent dessert that's perfect for any occasion. These thin, crisp cookies are shaped into elegant curves and then dipped in rich, velvety chocolate and mixed nuts. The combination of buttery sweetness and dark chocolate creates a perfect balance of flavors that's sure to please any palate.




Ingredients
2 egg whites
1/2 cup sugar
1/3 cup butter, melted and cooled
1/2 teaspoon almond extract
Pinch of salt
1/3 cup flour
1/2 cup semi-sweet chocolate chips, melted
1/2 cup finely chopped PLANTERS® Deluxe Salted Mixed Nuts
Directions
Heat oven to 325°F. Line two baking sheets with silicone mats or non-stick foil.
In large bowl, lightly whisk egg whites. Add sugar. Whisk until well combined.
Stir in butter, almond extract and salt until smooth. Stir in flour until just combined.
Using one prepared baking sheet at a time, measure out 1 heaping teaspoon of batter onto sheet. Spread batter out into a 3-inch circle. Repeat to form 3 to 4 cookies per baking sheet.  Bake 7 to 8 minutes, or until edges of cookies begin to turn golden brown.
Allow to cool 30 seconds. Working quickly, lift one cookie off mat with an offset spatula and onto a wooden spoon handle. Roll up on spoon handle, finishing the edge by pressing on work surface.  Remove from spoon handle to parchment lined tray. Repeat with remaining batter to form 24 cookies.
Dip ends of cooled cookies in melted chocolate. Sprinkle with nuts. Let stand until chocolate is set.

Back to All Recipes