Back to All Recipes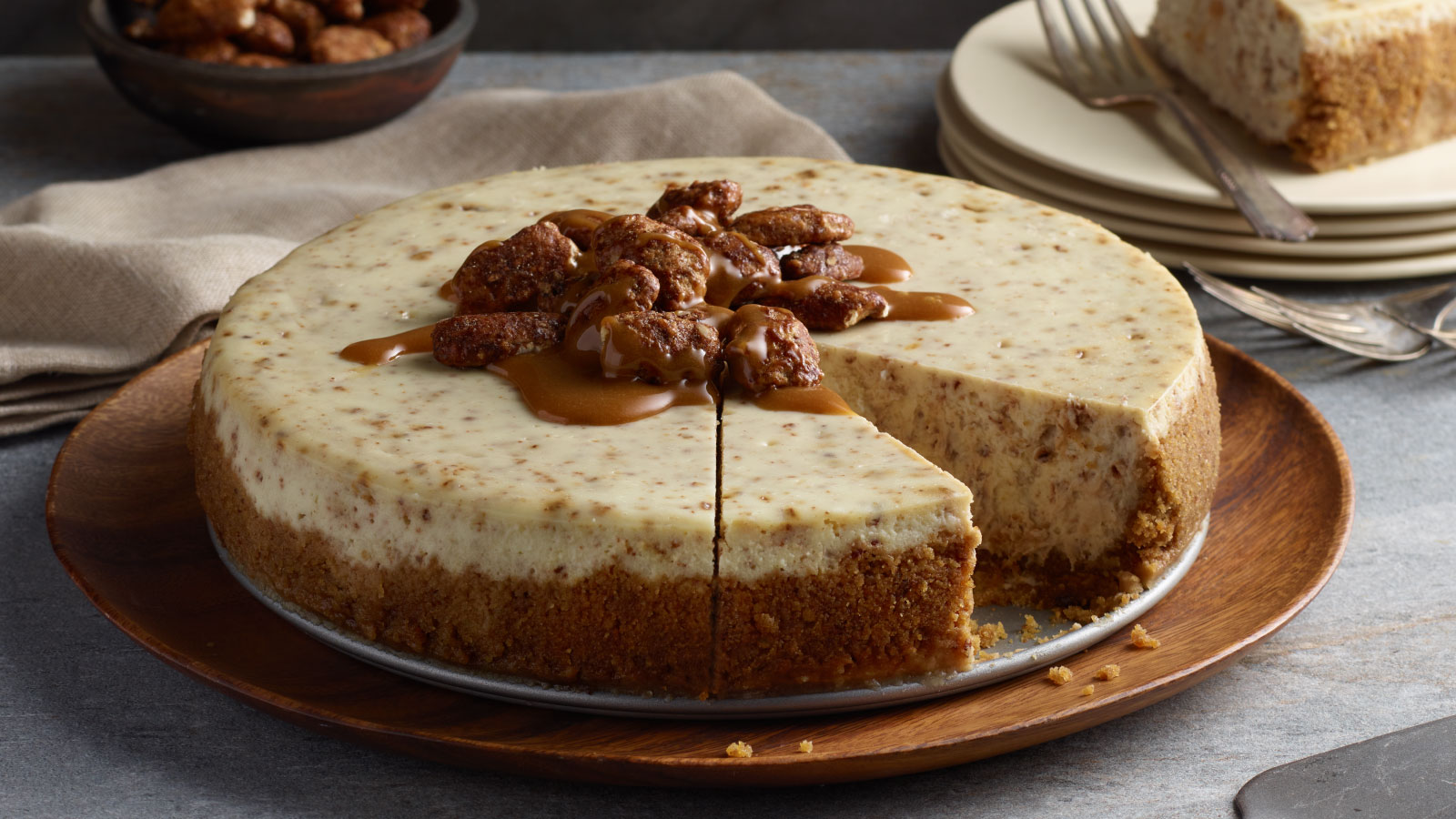 Butter Cinnamon Pecan Cheesecake
With butter cinnamon pecans in every bite, this delectable cheesecake is an indulgent holiday treat for the most wonderful time of the year.



Cook Time
1 hour, 10 minutes

Total Time
1 hour, 40 minutes
Ingredients
2 (5.5 – ounce) packages PLANTERS® Kettle Cooked Butter Cinnamon Pecans, divided
1½  cups graham cracker crumbs
1/3 cup sugar
1/3 cup butter, melted
3 (8-ounce) packages cream cheese, softened
1½ cups sugar
2 cups sour cream
1 teaspoon vanilla
3 eggs, room temperature, lightly beaten
Salted caramel dessert sauce, if desired
Directions
Heat oven to 325°F.
In bowl of food processor, place contents of 1 package PLANTERS® Kettle Cooked Butter Cinnamon Pecans. Process until very finely chopped. Reserve remaining package for garnish.
In large bowl, combine graham cracker crumbs, 1/3 cup chopped pecans, sugar and butter. Press mixture onto the bottom and 1 inch up the side of a greased 9-inch springform pan.
Place springform pan on a double thickness of heavy-duty foil. Securely wrap foil around pan.
In large bowl, beat cream cheese and sugar until smooth. Beat in sour cream and vanilla. Add eggs; beat on low speed just until combined. Fold in remaining chopped pecans. Pour into crust. Place springform pan in a large baking pan; add 1 inch of hot water to larger pan.
Bake 75 to 85 minutes, or until center is almost set. Remove springform pan from water bath. Cool 10 minutes on  wire rack. Carefully run a knife around edge of pan to loosen; cool 1 hour longer. Refrigerate overnight, covering when completely cooled. Remove rim of pan.
Garnish top of cheesecake with reserved pecans. Serve with dessert sauce, if desired.

Back to All Recipes