Back to All Recipes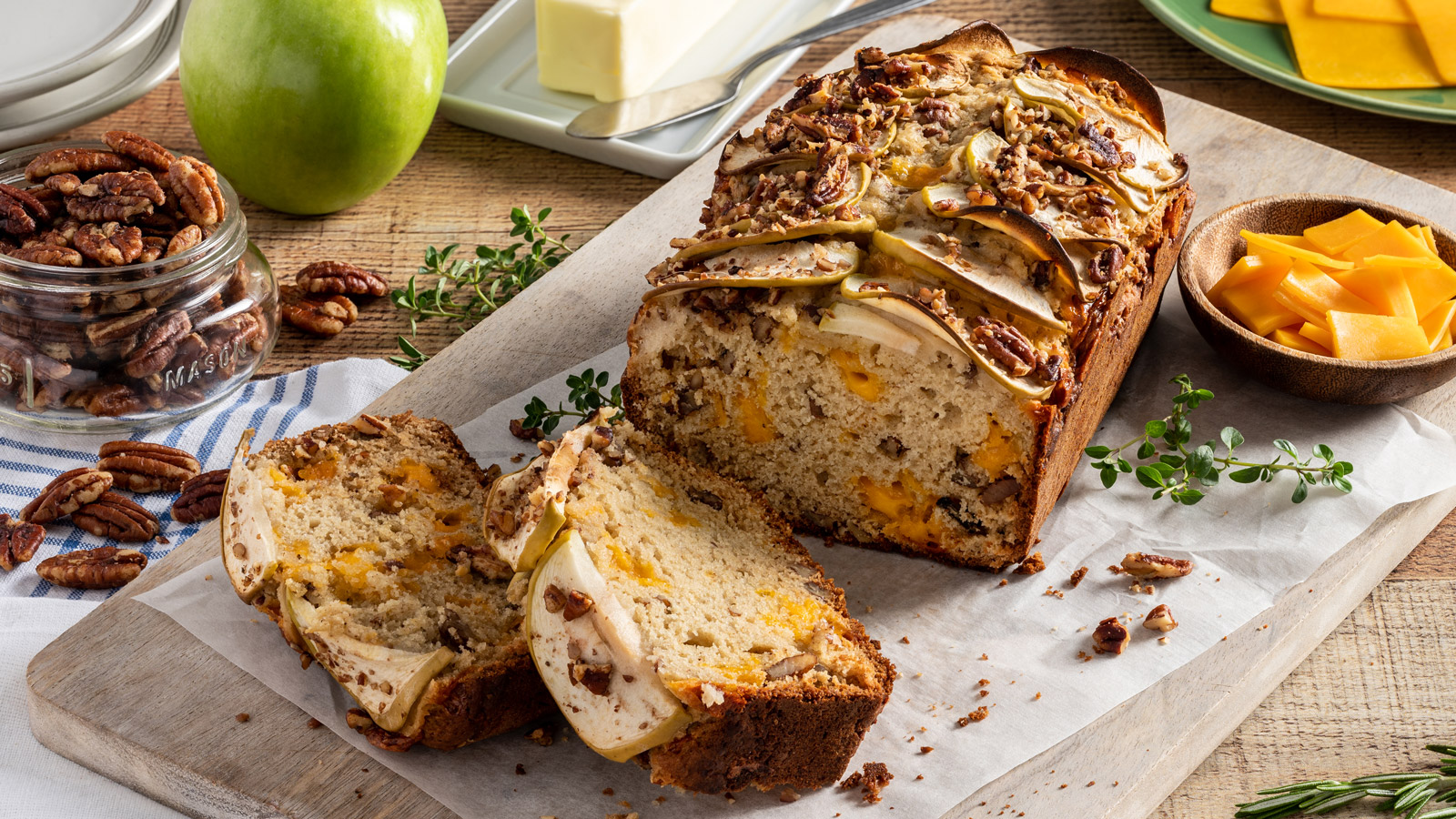 Apple Cheddar and Pecan Bread




Total Time
1 hour, 15 minutes
Ingredients
Herb Butter
1/4

 

cup unsalted butter, melted

1

 

teaspoon finely chopped fresh thyme

1

 

teaspoon finely chopped fresh rosemary
Bread
2

 

cups all-purpose flour

1

 

teaspoon baking powder

1/2

 

teaspoon baking soda

1/2

 

teaspoon kosher salt

1

 (5-ounce) package APPLEGATE ORGANICS® Mild Cheddar Cheese, roughly chopped

1/3

 

cup unsalted butter, softened

2/3

 

cup sugar

2

 

large eggs

1

 

small Granny Smith apple, cut into 1/4-inch pieces, plus 1 small Granny Smith apple, cut into 1/4-inch slices

3/4

 cup PLANTERS® Roasted Pecans, chopped, divided

1/2

 

cup unsweetened applesauce
Directions
For herb butter: In a small bowl, combine butter, thyme and rosemary. Set aside for brushing bread.
For bread: Heat oven to 375°F. Grease a 9×5-inch loaf pan with nonstick cooking spray. In a large bowl, whisk flour, baking powder, baking soda and salt together until combined. Stir in cheese until combined.
In a separate large bowl, using a hand mixer, beat butter and sugar together until light and fluffy, about 3 to 4 minutes. Add eggs, one at a time, until combined, about 2 minutes. Fold in apple pieces, 1/2 cup pecans, and applesauce until combined. Fold dry ingredients into wet ingredients until just combined.
Pour batter into prepared loaf pan. Place remaining pecans and apple slices decoratively on top of batter. Brush with herb butter. Bake for 45 to 50 minutes, until a toothpick inserted into the center comes out clean. Allow to cool completely before slicing and serving.

Back to All Recipes