Back to All Recipes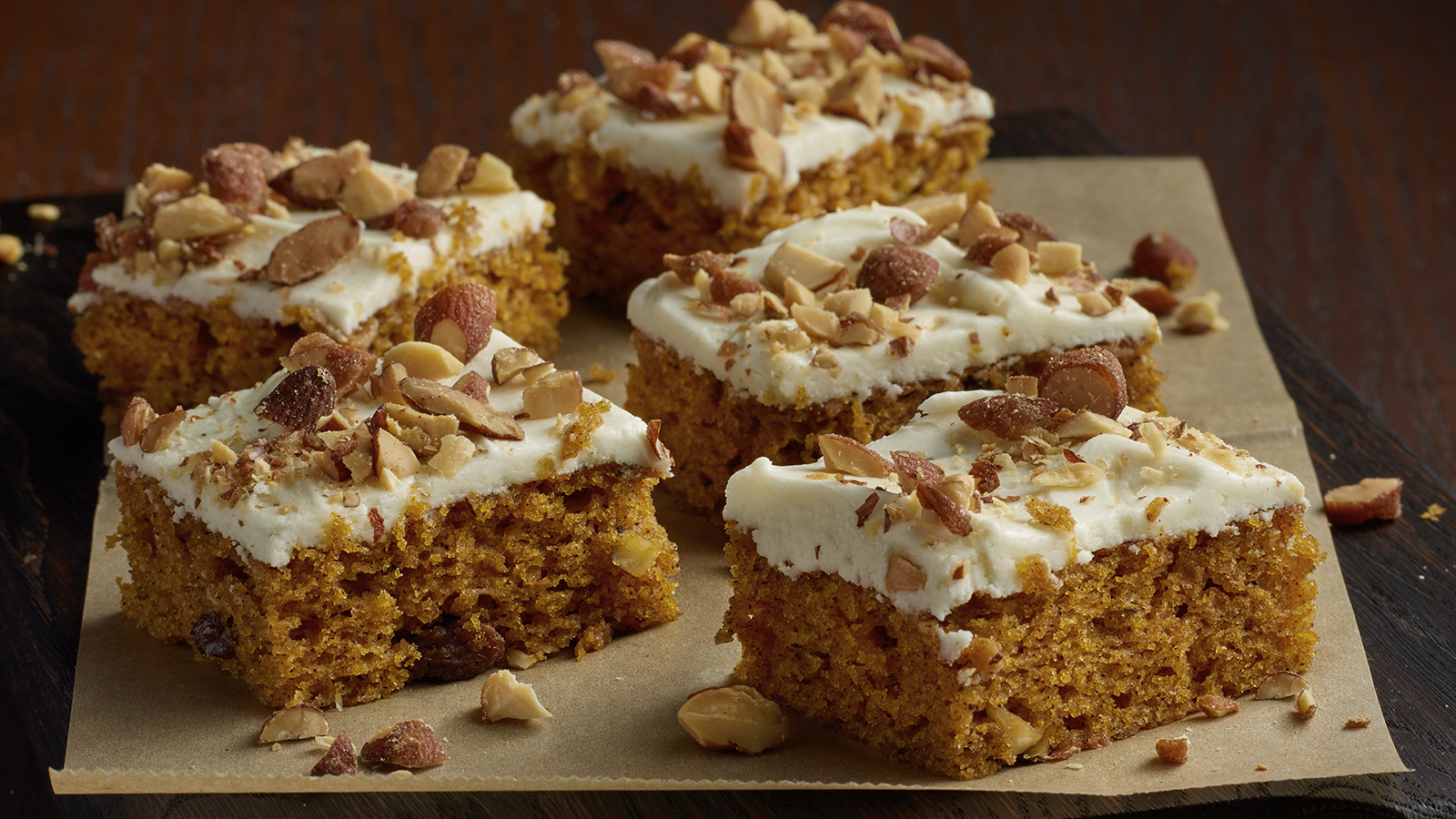 Almond Pumpkin-Spice Bars
Skip the latte this fall and enjoy dessert! Made with limited edition PLANTERS® Pumpkin Spice Almonds, these bars are a classic autumnal treat featuring a trendy pumpkin spice twist.



Cook Time
1 hour, 25 minutes

Total Time
1 hour, 40 minutes
Ingredients
4 eggs
2 cups sugar
1 cup vegetable oil
1 (15-ounce) can pumpkin
2 cups flour
2 teaspoons baking powder
2 teaspoons ground cinnamon
1 teaspoon baking soda
1/2 teaspoon salt
1/2 teaspoon ground ginger
1/4 teaspoon ground cloves
1/2 cup raisins, if desired
1 cup PLANTERS® Pumpkin Spice Almonds, chopped, divided
4 ounces cream cheese, softened
1/3 cup butter, softened
1 teaspoon vanilla
2 cups powdered sugar
Directions
Heat oven to 350°F. Lightly grease bottom and sides of 15x10x1-inch pan. In large bowl, beat eggs, granulated sugar, oil and pumpkin until smooth. Stir in flour, baking powder, cinnamon, baking soda, salt, ginger and cloves. Stir in raisins and ½ cup chopped almonds. Spread in pan.
Bake 25 to 30 minutes or until light brown. Cool completely in pan on cooling rack, about 2 hours.
In medium bowl, beat cream cheese, butter and vanilla with electric mixer on low speed until smooth. Gradually beat in powdered sugar on low speed until smooth and spreadable. Spread over bars. Sprinkle with remaining chopped almonds. Store in refrigerator.

Back to All Recipes