A Snack for
Any Craving
Whether you're craving salted, unsalted, dry roasted, honey roasted, whole nuts, half nuts, peanuts, mixed nuts, the PLANTERS® brand has you covered. Nuts are kind of our thing.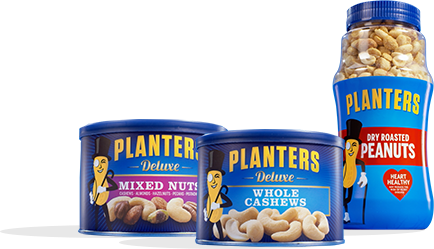 WHOLE CASHEWS
FOR REAL CRAVINGS
The lightly salted crunch of PLANTERS® Cashews might make your mouth water. But that's just nature's way of appreciating the salty crunch of a delicious cashew.
Meet The Man Behind The Monocle
Whether it's satisfying salty cravings or giving advice on if you can pull off spats or not, the iconic MR. PEANUT® character has your back.